A 50TH ANNIVERSARY SPECIAL RELEASE BY THE ONE AND ONLY NODDY HOLDER
Born in 1946, Noddy Holder was performing on stage from the age of seven. He left school at sixteen to become a professional musician and, in 1966, joined forces with the band who eventually became Slade.
Throughout the 70s, Noddy's rock vocals were the trademark of the biggest selling singles band in the UK, including six number ones. Noddy co-composed almost all of Slade's songs, including the multi-million selling 'Merry Xmas Everybody'. The band released over twenty albums during their career and had huge success all over the world.
Leaving Slade, after twenty five years, Noddy went on to host his own syndicated radio shows for seventeen years, as well as working extensively in TV.  He continues to work today across television, radio, advertising, and on stage, and has had two books published. Among the many honours he has received over the years, Noddy was made a Freeman of his home town, Walsall in the West Midlands, and was awarded the MBE in 2000.
Merry Xmas Everybody
Song by Slade
Written by Neville Holder and Jim Lea
Are you hanging up a stocking on your wall?
It's the time that every Santa has a ball
Does he ride a red-nosed reindeer?
Does a ton-up on his sleigh?
Do the fairies keep him sober for a day?
So here it is, Merry Christmas
Everybody's having fun
Look to the future now
It's only just begun
Known and sung by millions every Christmas, 'Merry Xmas Everybody, was written by Noddy and Jim Lea, Slade's bassist, and originally released on 7th November 1973. It was the Christmas No.1 that year, selling over a million copies, and has gone on to be re-released every decade since, re-entering the UK Top 20 six times. The song was certified double Platinum by the BPI in December 2021 and is frequently cited as one of the UK's favourite Christmas songs, played annually across TV and radio to celebrate the approach of the festive season.
An original painting by Noddy Holder on the soundboard of a Gibson J-45 acoustic guitar.
Marking the 50th anniversary of the cherished Christmas hit, 'Merry Xmas Everybody', Noddy has perfectly captured the spirit of the song, cleverly incorporating his famous yell,  "It's Christmas!!!".
Accompanying the painting is a scratchplate (pickguard) signed by Noddy and inscribed with the immortal words, "Keep on Rockin'".
The artwork will be auctioned as part of the Rock, Pop & Film sale at Bonhams, London on 29 November, 2023.
For more information, visit: https://www.bonhams.com/auction/28540/rock-pop-and-film/
Proceeds from the sale of the painting will go to the UK charity Retune.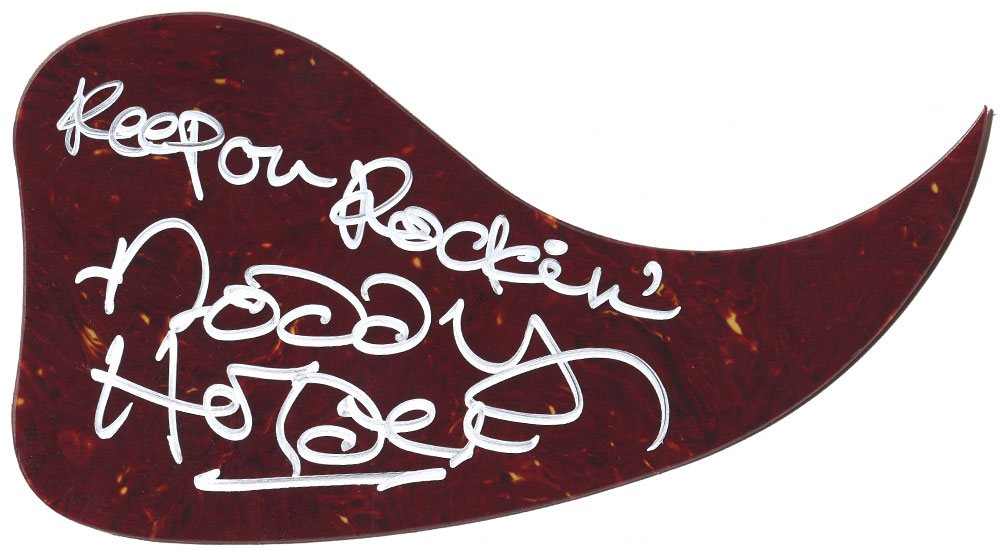 Retune is a charity that inspires young people to improve their mental wellbeing through creative outlets such as music and the arts. Creativity can be defined as 'anything you can lose yourself in'. Retune delivers workshops in schools, universities, colleges, hospitals and prisons, as well as putting on high calibre live shows that encourage performers and audiences to be open about their experiences. Retune's SCALES model, with six 'strings' representing different areas of mental wellbeing (Sleep, Creative, Active, Listen, Earth, Social) can be used as a preventative self-help tool that might reduce the number of young people seeking professional help or ending up in mental health crisis. Retune is supported by the NHS and carries out its work all over the UK, wherever services are required. The message is simple – we all go 'out of tune' from time to time, and it is important to have strategies up our sleeves in order to achieve mental 'harmony' once more.
Merry Xmas Everybody by Noddy Holder is a special festive release as part of NO STRINGS ATTACHED.
Eazl would like to thank everyone involved in the project, including Gibson and our amazing artists and supporters.
And, of course, a special thank you to Noddy for bringing us all some extra Christmas cheer!
We wish you all a wonderful Christmas and a fabulous 2024.
KEEP ON ROCKIN'