The Proclaimers
Formed by twin brothers Craig and Charlie Reid, the Proclaimers are a Scottish rock duo who rose to global fame in the 1980s, with hits such as "Letter from America"and "I'm Gonna Be (500 Miles)". They have sold over five million albums worldwide and continue to record new material and perform live today. The Proclaimers latest album, "Dentures Out", was released in 2022 to critical acclaim.
Zac Ware
Zac is an international touring musician who has played with the Proclaimers since 2005. With six studio albums and six world tours under his belt, stand out performances include two sold out nights at Edinburgh castle, opening the Glastonbury Pyramid stage and playing Live 8 at Murryfield stadium.
Outside of the Proclaimers, Zac has a studio in his garden where he helps songwriters hone their songs and then produce them for release, often adding guitar, pedal steel and backing vocals as part of the service. He also writes his own songs and works in collaboration with others, including writing and performing music for TV and advertising.
Letter From America
Song by The Proclaimers
Written by: Charles Stobo Reid / Craig Morris Reid
When you go will you send back a letter from America?
Take a look up the rail track from Miami to Canada
Well broke off from my work the other day
Spent the evening thinking about all the blood that flowed away
Across the ocean to the second chance
I wonder how it go on when it reached the promised land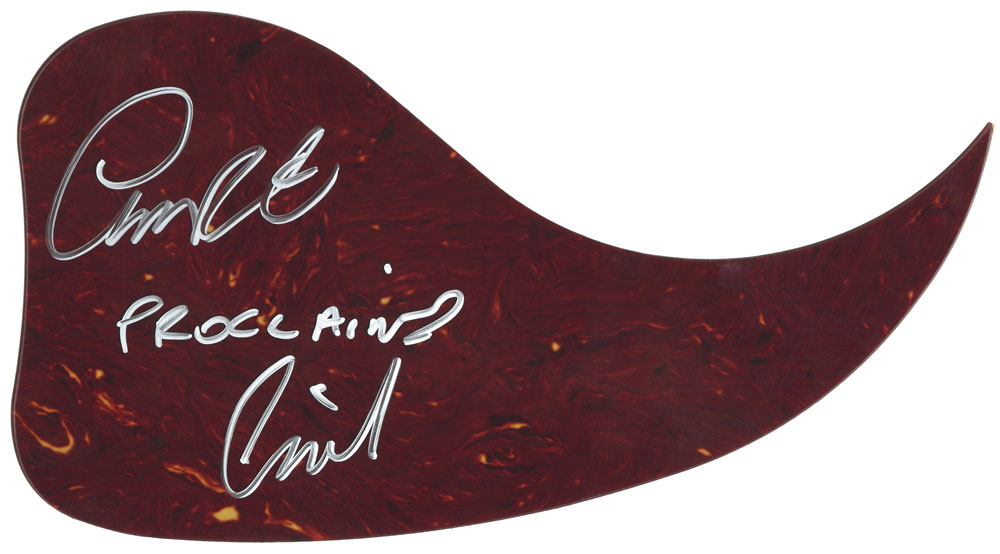 Painting by Zac Ware.
Scratchplate hand-signed by Craig and Charlie Reid (the Proclaimers).